PH53 is a state of the art phono amplifier.
PH53 is a state of the art phono amplifier. The unique balanced current injection input for a wide range of MC cartridge and the LEF amplifier technology for the output stage provide today's top level sound quality. Also standard RCA input for unbalanced use with MM or MC cartridge is available. All amplifier sections run without any overall negative feedback. Thus the amplifier creates no dynamic distortion.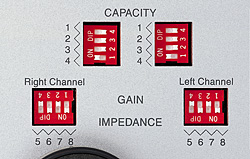 Matching with every cartridge
PH53 is compatible with both MM and MC cartridges and allows precise settings with DIP switches on its bottom panel. Input capacity for MM cartridge is adjustable to around 47pF to 884pF with 4 switches per channel in addition to cable capacitance. Also input impedance is adjustable to 100Ω that is a common value for most MC cartridges or to 1kΩ that is a standard value for most high output MC cartridges.Input impedance for MM cartridges is fixed at 47kΩ with all the switches open.Gain switches are also applied increasing the gain by 6dB for low MM and high MC, or 20dB for low MC.
*inputs include jacks for XLR balanced current injection or unbalanced RCA.Output signals are always available balanced and unbalanced,regardless of the input.
*Always use one input only!
State-of-the-art Current Injection technology
Current Injection is a landmark technology for shortening the signal path, improving the sound quality and measurement specs significantly. The effective simplicity of Current Injection requires a non-feedback-loop amplifier. While Current Injection replaces the voltage amplifer, LEF guarantees best performance of the current amplifer with low THD. Both technologies complement each other and overcome the limitations of traditional circuitry to a better standard of music reproduction. This is applicable when using balanced MC input.The maximum performance of MC cartridge is attained because neither a redundant amplification stage nor negative feedback are present in this method,and an outstanding capability for musical expression is achieved without sacrificing measurement specs.
*Not applicable for RCA input.
CEC's unique LEF circuit
DA53 features CEC's unique LEF(Load Effect Free) circuit that virtually eliminates the causes of musical degradation. High efficiency is achieved with this LEF circuit along with the acquisitionof delicate, subtle sound reproduction. The music reproduction appeals to senses,forgetting about a performance of technical squipment.The original sound is reproduced in highest fidelity.

RIAA equalization with the Neumann extension
PH53 uses RIAA equalization with Neumann extention. The Neumann time constant or some equivalent is used on almost all recordings. RIAA with the Neumann extension allows a wider top frequency extension.According to the RIAA the frequency response drop down from 20kHz on. Beyond 20kHz the Neumann character shows a gradual decline and then flat.
PH53 also has a subsonic filter for preventing large woofer excursions and muddiness in the midrange due to mechanical vibration noise signals that are found below 15Hz. You can select from two different downward curves, soft and maximum reduction.